Thanks for all the well wishes!
I'm only slightly acknowledging them out of fear that I'll doom the pregnancy!
I'll be back tomorrow with an update on that front, here's hoping for more good news!
Although I can't be certain, and the culprit shall remain nameless, see above, I've been craving salads. I was never much of a salad eater-I'd eat it if it was served to me at a meal, sometimes I would order it when I was being diet lifestyle conscience, but I definitely would not go out of my way to make my own salad! However, I've enjoyed quite a few salads these past couple of weeks, including a steak salad for dinner. I'm currently dreaming of my next salad, which will be homemade (I know right?!?) for a small dinner gathering this Thursday night. I'm really loving the idea of all the spring/summer fruit that can be thrown in. I'm also really missing all the nut options, but, what can ya do?!?
Here are my top faves after perusing Pinterest
Spring Salads
I'd obviously have to get rid of a few ingredients, and I can swap out the chicken depending on the meal, but this looks so refreshing!
There's something about this salad that just screams summer to me. Pear and raspberry sound so complimentary, and I love poppy seeds.
I can almost taste the chicken and peaches! Peaches just scream summer and I imagine chicken fitting in so nicely with this recipe. I will definitely have to try this one out as a main!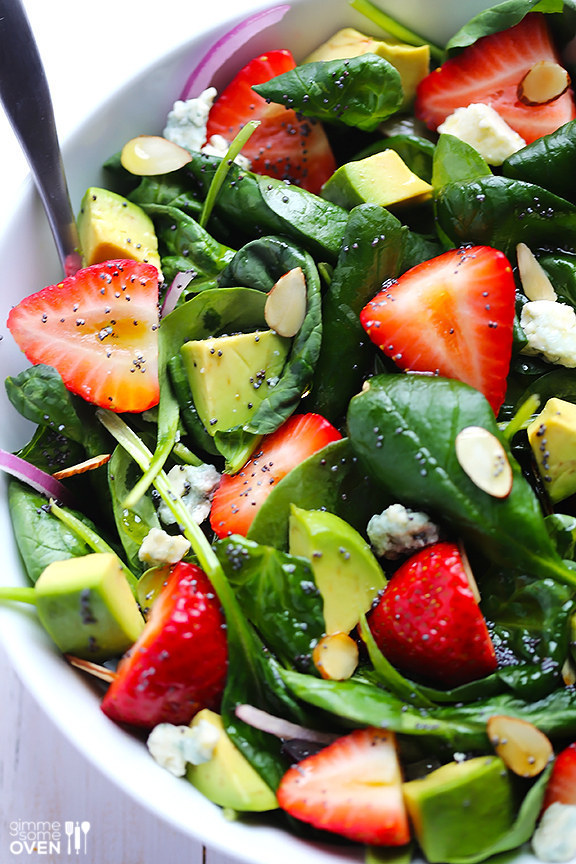 This one just looks like a nice, easy, quick throw together salad. Nothing too crazy, all typically summer staples, and no real prep! It could be more of a fuller meal because of the cheese and avocado, but it could also be a small side salad. Personally, I love strawberries in my salad!
Stay tuned to see which salad I chose to compliment my main dish!
What salads are you eating these days?