Ahhh, I feel so much better this week!
Here's what was accomplished:
wall paper hung-check, check, check!!!!
Sconces hung
Mirror hung
Crib touched up
Crib sheets bought
Crib blanket ordered
Crate ordered
Curtain rods, arrived today, along with the monogram
Chalk pain bought
Rug arrived
Ok, so let's discuss.
My father in law hung the wallpaper for me-there was no way I was going to go near it!
The sconces were dug out from the garage-they haven't been used since our first nursery four residences ago...
The mirror was taken from our dining room wall and truthfully-I haven't even noticed it's gone. But I do notice it every day in the nursery, because it looks marvelous! Now to figure out what will replace it in the dining room...
I touched up the crib with the fix it stick and paint pen-honestly, it probably looked better without me trying to mess with it, but whatevs.
Check out how beat up and dirty it was before...
OH, by the way-that's the only look at the hung wallpaper you get this week ;)
Now check out the after
From a distance it looks fine, but when you look up close-see what I mean?
I bought $10 sheets at Buy Buy Baby.
Hannah's personalized blanket is ordered, but I doubt it will be here in time for the reveal. I really went back and forth on if I should try to upgrade the cheap crib comforter or order one.
This is what I was eying
I asked for help from one of my favorite Etsy stores
VixonGoods
and she said that because the ruffle trim was sewn on before the seam was put on, it would be complicated to add the ruffle. Plus, I still needed to get it embroidered with her name on it...because I wanted to, and I'm the boss around here!
By the time I added up the price, I knew the pottery barn one was too expensive, but I also knew buying the trim, taking the time to upgrade it, and have it embroidered would cost me too, so I compromised and went with this from Etsy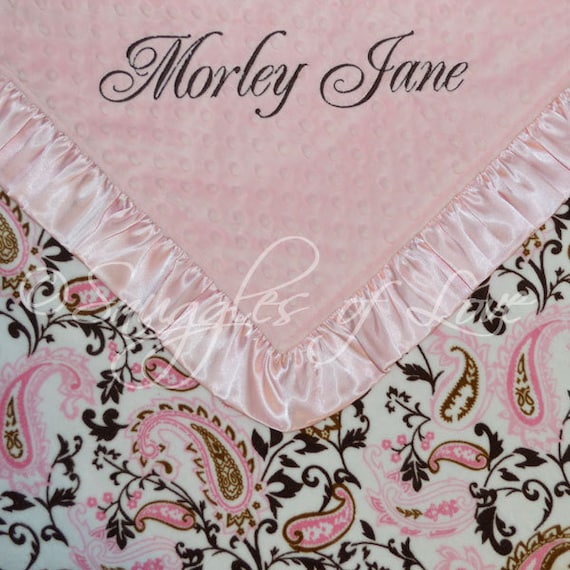 I got both sides light minky pink. I highly doubt this will be here for the reveal, but I can't wait for it!
My crate was ordered and is on it's way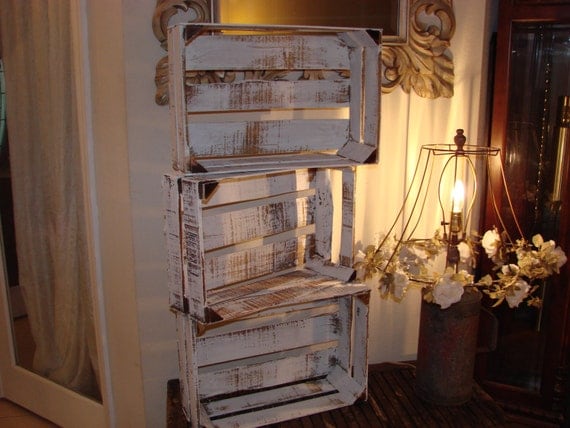 I think it will add the perfect touch!
My curtain rods came today-anyone else find it incredibly difficult to find nice white curtain rods?!?
Here's what I went with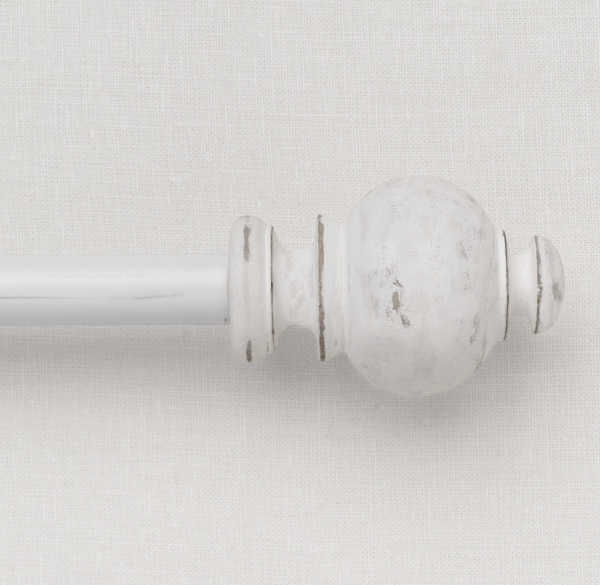 Now, I know they're expensive, it kills me to spend so much money on something that really plays a very minor part-but the curtain rod definitely adds character to the room, and this distressed, shabby look is exactly what I am going for. Plus, I love the Restoration Hardware curtain rod I got in our first nursery and these things are awesome quality and I know we will get plenty of use out of them! So look at it as a semi investment...
Besides the wallpaper being hung, something else big happened this week!
The rug arrived!
Although there was a problem-the blue is much more of a dark blue, and it's not really gold, it's a beige. It just did not match, so away she went and the search began again.
This is what I ended up settling on, and it is resting well in the nursery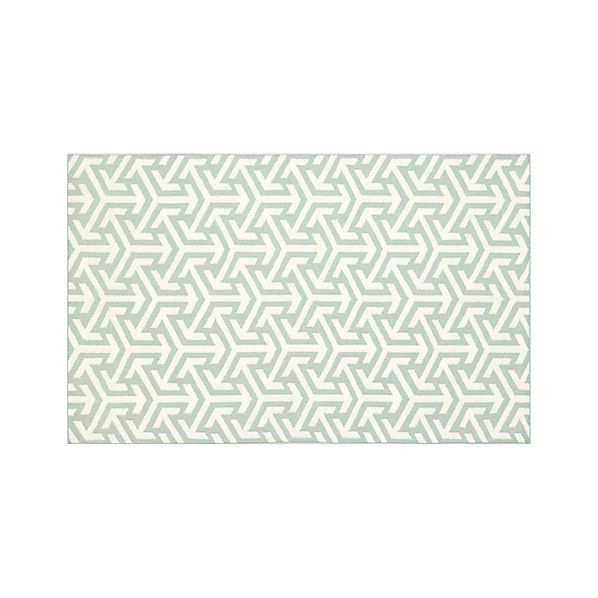 It's a similar pattern, but just a more green, or silver sage shall we call it!
I love it, it fits perfectly!
What's left
Spray paint the hooks and monogram-which arrived today!
Hang the curtain rods and curtains
paint the night stand
paint the picture frames
organize bookshelf
embellish the lamp
I think I can actually pull this off! Stay tuned!!!