I think everyone's feeling the hustle and bustle of this Thanksgiving week.
Add in a family wedding tomorrow night and a Chanukah Wednesday night-I'm feelin' it!
I did all of my grocery shopping for Thanksgiving, Chanukah baking and the Sabbath on Sunday.
I don't think I have ever seen the stores more packed!
Craziness...I've been told I need a horn on my shopping cart and that couldn't be more true for times like those.
Usually I'm very last minute, but thankfully I was able to plan ahead that I won't have to make any unnecessary and unplanned trips to the grocery store.
I figured for those of you still planning your menus, why not give you a glimpse into my Thanksgiving menu and help you out!
Better now, because they won't be of any use come Monday.
We are going to my husband's cousins' for Thanksgiving.
There will be a total of 20 of us.
I volunteered to make a starch, a vegetable and dessert.
Starch
Yup, that picture about did me in.
Recipe type:
Thanksgiving & Holiday
Ingredients
3-4 cups cooked sweet potatoes (or canned yams)
1 cup sugar
½ cup butter
⅓ cup half and half
2 eggs, beaten
½ teaspoon nutmeg
½ teaspoon cinnamon
½ teaspoon cloves
1 teaspoon vanilla
Topping:
½ cup melted butter
2 cups light brown sugar
1 cup flour
2 cups chopped pecans
Instructions
Preheat oven to 350.
Casserole
Mash potatoes
Mix in sugar, butter, eggs, vanilla, half and half, and spices.
Pour into 9×13 baking dish.
Topping
Melt butter
Mix in remaining ingredients
Sprinkle on top of sweet potato mixture.
Bake for 25 minutes at 350 degrees.
Vegetable
As my son says, "yay sprouts!"
1 T. olive oil
1 t. garlic powder
1 t. onion powder
1/4 t. black pepper, coarse ground
1 lb. brussels sprouts, trimmed and halved
1 medium gala apple, cored and cut into 1 in. chunks
2 T. dried cranberries
2 T. balsamic vinegar
1 T. honey
Preheat oven to 375°F. Mix oil, garlic powder, onion powder and pepper in large bowl. Add Brussels sprouts and apple; toss to coat well. Spread in single layer on foil-lined 15x10x1-inch baking pan.
Roast 30 to 35 minutes or until Brussels sprouts are browned and tender.
Meanwhile, mix cranberries, vinegar and honey in small bowl. Drizzle over roasted Brussels sprouts and apple; toss to coat well. Serve immediately.
Dessert
1 (8oz) package of cream cheese, soft
2 (8 oz) containers of cool whip
2 small packages (3.4 oz) jello instant pumpkin spice pudding
Combine butter, flour, chopped pecans and sugar and press into a 9 x 13 in baking dish. Bake at 375 for 10-15 minutes. Let cool completely.
Beat cream cheese, powdered sugar, and 1 1/2 cups cool whip until smooth. Spread over crust.
Mix pudding mixes with cold milk, whisking for several minutes. Set it in the fridge for 5-10 minutes to let it thicken. Spread over the cream cheese layer. Top with remaining container of cool whip. Sprinkle with nutmeg.
Cut into squares and serve. Keep refrigerated.
As keeping with tradition, I will be making and decorating Chanukah cookies. When I first began, I was in undergrad, and I had a small class I would bring baked goods into. Our Speech major class was about 25 people, and we had most of the same classes throughout the day, so it was nice to share my treats with them. I continued the tradition into graduate school and now, I bake and leave in the teacher's lounge. I buy the
pre-made Betty Crocker cookie icing,
because I think it's AH-MAZING! I then decorate with blue sprinkes, blue crystals, white pearls-whatever they have at the grocery store.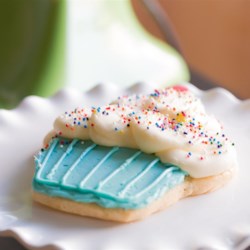 1 1/2 cups butter softened
2 cups white sugar
4 eggs
1 t. vanilla extract
5 cups all purpose flour
2 t. baking powder
1 t. salt
In a large bowl, cream together butter and sugar until smooth. Beat in eggs and vanilla. Stir in the flour, baking powder, and salt. Cover, and chill dough for at least one hour (or overnight).
Preheat oven to 400 degrees F (200 degrees C). Roll out dough on floured surface 1/4 to 1/2 inch thick. Cut into shapes with any cookie cutter. Place cookies 1 inch apart on ungreased cookie sheets.
Bake 6 to 8 minutes in preheated oven. Cool completely.
Yes, you really do bake it for such a short period of time!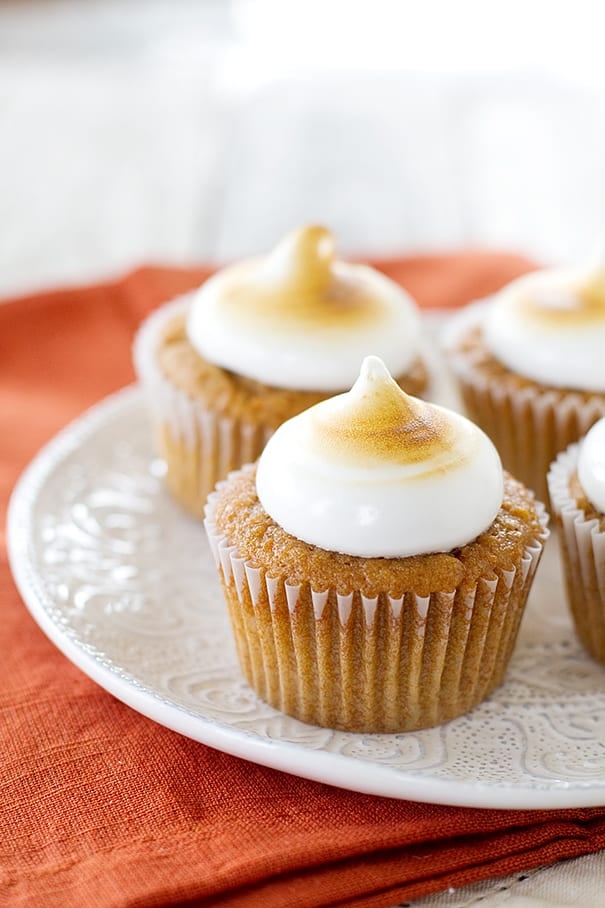 Thanksgiving cannot be complete without sweet potatoes with marshmallows!
Cupcakes
3/4 cup butter, at room temperature
2 1/4 cups brown sugar
3 eggs
1 1/2 teaspoons vanilla extract
1 1/2 cups cooked, mashed sweet potatoes
3 cups all-purpose flour
1 tablespoon baking powder
1 1/2 teaspoons ground cinnamon
1 1/2 teaspoons ground ginger
3/4 teaspoon ground nutmeg
3/4 teaspoon baking soda
3/4 teaspoon salt
1/2 teaspoon ground cloves
3/4 cups milk
Marshmallow Frosting
4 egg whites, at room temperature
1 cup sugar
2/3 cup corn syrup
1 teaspoon vanilla extract
Preheat the oven to 350F. Line 30 muffin tins with cupcake liners.
Beat the butter and brown sugar in the bowl of a mixer until light and fluffy. Add the eggs, one at a time, scraping down the bowl between additions. Beat in the vanilla and then the sweet potatoes.
In a bowl, whisk together the flour, baking powder, cinnamon, ginger, nutmeg, baking soda, salt and cloves. Mix half of the flour mixture into the sweet potato mixture, followed by the milk, then the remaining flour.
Scoop the batter into the prepared cupcake liners, filling each about 3/4 full. Transfer to the oven and bake until the center springs back when touched, 18 to 22 minutes. Cool completely on a wire rack.

To make the frosting

In a stand mixer, beat the egg whites until they form stiff peaks.
Meanwhile, heat the sugar and corn syrup over medium heat. Heat until it comes to a full boil, then remove from the heat.
Once the egg whites are stiff, slowly pour in the hot sugar mixture. Do not scrape the sides of the bowl, or you will have sugar crystals in the frosting. Beat the frosting until it forms a shiny, fluffy marshmallow frosting, 5-7 minutes.
Pipe the frosting onto the cooled cupcakes. Use a kitchen torch to toast the frosting.
And last but not least, it wouldn't be Thanksgiving without these
Happy Thanksgivikah.
Turkey, Pies, and Dreidles Oh My!