Thanks to all those who commented and reached out to me on my last post. Oddly, I have felt such a sense of calm since Friday. It's as if what I knew was going to happen has finally passed, and I can finally put it behind me. Of course, I so hope this works out, and we're optimistic, since there seems to be ample room to actually believe this to be the case and maybe it isn't as grim as I was first made to think it could be. But at the same time (and I hope this isn't violating some PC rule by stating this "out loud") if this isn't a healthy pregnancy, a blessing would be for it to end early and quickly. Ahh...so maybe I'm not as hopeful as I am trying to appear? The truth is, my gut tells me it's going to be fine on Friday. I have such reason to think that with such good, rising numbers, combined with being so early and the fact that it was a frozen transfer all will be well. But, the reality is, it might not be, so I have to keep that in mind. I won't be doing myself any favors by putting myself into a position where a repeat of Friday will be just as, if not more devastating. I'm on my second pint of ice cream in two days, and for now, I'm laying low, anticipating Friday-in a much better place than I was last week.
******
We all go through seasons in life, and for awhile, my season was not cooking for Shabbos. I would buy the large special which consisted of a rotisserie chicken, a kugel, a salad and a soup, for about $22. Couldn't beat it! But then, I got serious about my dieting lifestyle on the weekend, and realized that if the soup options were too carby, I couldn't justify the special because going through the hassle of making a chicken soup (bone broth and not many carbs, but loaded with protein from the chicken) made the special not worth it!
The kugel we frequently bought, which was so yummy, was the cauliflower kugel. Many years back, a faux potato kugel recipe was going around, which was very similar. We all know cauliflower is like the magical vegetable-it can act as our favorite carbs-think mashed potatoes, rice, thick and chunky soup, pizza crust...the list is endless-have you ever searched cauliflower recipes on Pinterest?!? #mindblown
Anyway, my husband loves the cauliflower kugel, and I appreciate that since it's a carb friendly option. However, the ready made kugel sells for $7, where I knew I could make one for much less. This past week, I had my first attempt. It is by far, the easiest kugel recipe-the faux one I mentioned earlier, was so time consuming and difficult, it was almost not worth it. This is so easy, one bowl, takes about 5 minutes to make depending on your cauliflower choice, and was gone in less than 24 hours!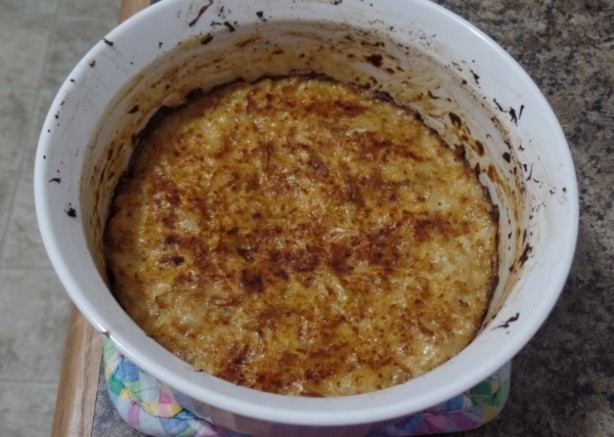 1 head cauliflower or bag of frozen cauliflower
1-2 tablespoons of onion soup mix
2 eggs
1/4 cup mayonnaise
Cook or steam the cauliflower-I actually bought a regular bag of frozen cauliflower. However, even microwaving it didn't have the same effect as the frozen bags specifically meant for steaming. In the future, I would definitely buy the frozen cauliflower in a steam bag, or just boil the frozen cauliflower.
Drain the water then mash the cauliflower.
Add in the onion soup mix.
Add in slightly beaten eggs.
Pour into a greased pie pan or small 9x9 pan and sprinkle with paprika.
Bake at 350 for 45 minutes.
This was such a hit and so easy, and you know I didn't follow the directions to such a T. But, I definitely think it would be better onion soup mix as oppose to the chicken I used. I'm also going to try using two bags of cauliflower since it came out thin and mushy. The fact that this was so easy to prep, and doesn't require such specific ingredients I will definitely be making this again!