I grew up in Ohio, and I think I mentioned the Jews were kind of few and far between in my small town. A lot of Judaism was a novelty.
I still find it weird that Jews have such a presence in New York.
It's even more weird to me that non-Jews know so much about Judaism.
I made
latkes
to share with my co-workers during Chanukah and knishes were brought up.
It definitely caught me off guard, as I myself do not think they're that great, but I find it wildly entertaining that most of my non-Jewish co-workers are so in-tune with Judaism.
So, during my snow day I decided to give knishes a shot.
I will say that they are a major time suck.
The recipe itself calls for 3 hours.
Add in 3 kiddos and it was an all day affair!
I also found some the part of filling and cutting to be confusing, but the nice thing about this is it's really hard to mess it up-you know you're supposed to end up with a pouch of potatoes.
So just do what you gotta!
Some of you may be wondering what a knish is.
It's essentially a potato pastry.
Best when served warm....yum...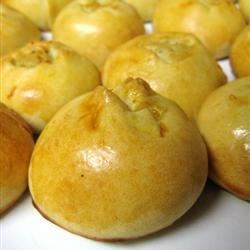 7 baking potatoes, peeled and cubed
1/4 cup vegetable oil
2 onions chopped
1 teaspoon ground black pepper
2 teaspoons salt
2 teaspoons white sugar
1 teaspoon minced garlic
2 eggs
1/2 cup vegetable oil
1 cup warm water
1 teaspoon salt
4 cups all-purpose flour
2 egg yolks
2 teaspoons milk
Place the potatoes into a large pot and cover with salted water. Bring to a boil over high heat, then reduce heat to medium-low, cover, and simmer until tender, about 20 minutes. Drain and allow to steam dry for a minute or two. Heat 1/4 cup of vegetable oil in a skillet over medium heat. Stir in the onion; cook and stir until the onion has softened and turned translucent, about 5 minutes. Combine potatoes and onions in a large bowl; season with 2 teaspoons of salt, pepper, sugar, and garlic. Mash until smooth; set aside.

Preheat an oven to 375 degrees F (190 degrees C). Line a baking sheet with parchment paper.

Beat eggs, 1/2 cup of vegetable oil, warm water, and 1 teaspoon of salt. Gradually stir in flour. When the dough has pulled together, turn it out onto a lightly floured surface and knead until smooth and elastic, about 8 minutes. Divide the dough into thirds and roll each piece out to about 9x13-inches. Slice the rolled dough in half lengthwise, then spread the potato mixture down the center of each strip. Roll each strip around the filling and gently press to seal. Repeat with the remaining dough and filling to end with six logs.

Cut each log into 1-inch slices and place cut side down on the prepared baking sheet. Gently press the edges of the dough toward the center of the potato mixture to form a bun. Beat egg yolks and milk together in a small bowl. Brush each knish with the the egg yolk mixture.

Bake in the preheated oven until golden brown, 35 to 45 minutes.