Until my late twenties,
I can't believe I'm actually typing out late twenties..hold me...
I had sworn off mushrooms. But then I married a guy who loved eggplant and mushrooms...hmm, can't be too bad. I slowly started expanding my pallet and on a recent trip I had my first ever mushroom burger. Too bad I had promised the hubs half; I will not do that again! It was so delicious and macro friendly I went on the hunt for our own. Typically, hence the word burger, you need a grill, but I can attest you won't even notice one wasn't used! Trust me! I've made these twice in large batches and enjoyed them for dinner on the daily.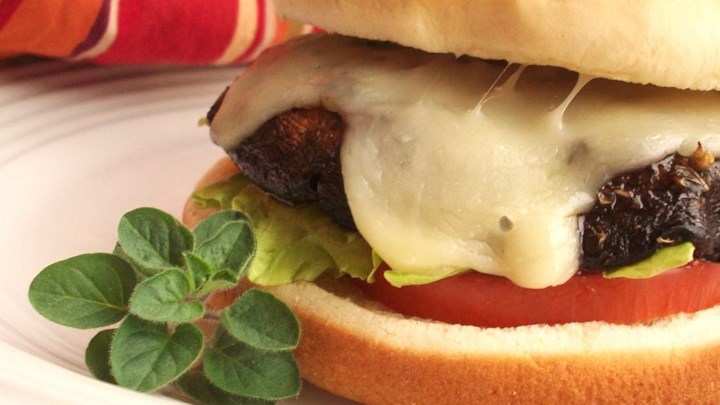 4 portobello mushroom caps
1/4 cup balsamic vinegar
2 tablespoons olive oil
1 teaspoon dried basil
1 teaspoon dried oregano
1 tablespoon minced garlic
salt and pepper to taste
4 1oz slices of cheese
So, as usual, I have short cuts. If you don't have enough, or any, balsamic vinegar just use red wine vinegar. Also, how great is it that the main spices are specifically supposed to be dried? Not only does that cut down on cost, it also way cuts down on prep time. I of course, used dried minced garlic, and these still tasted amazing even though I was missing some of the ingredients. I also used a spicy cheese; the original recipe calls for provolone cheese, but I wanted a bit more flavor.
The first time I made these, the batch of mushrooms came from Fresh Direct. The second time they came from the local grocery store with not so hot produce. Although I can't be certain, I'm thinking the quality of the mushrooms varies and will impact how easily they prep. I'm sure it will also impact how well they taste, but I'll have to rely on the hubs to fill me in on how his lunch was!
Thankfully, or not so thankfully, I don't honestly know, since I took the comment's advice...but the person said to kind of skin the mushroom cap so to speak. Under the edge of the cap you'll notice that the outer layer of skin can be peeled back, it's really easy to do. Doing that will allow it to soak up the marinade and not be as tough. The recipe also assumes your mushroom caps are ready to go-mine were not, either time. So after I peeled off the skin, I used a spoon to break off the remaining stem and clean out the guts.
Mix all of the ingredients, minus the cheese, and then pour over the mushroom caps that are in your pan, cap side up! Let stand for 15 minutes, while turning the mushroom caps at least twice. I don't see why you can't let it marinade for longer, and turn more!
The recipe then says to brush the grill grate with oil, and heat 5-8 minutes per side, while basting with the remaining marinade. Now, since I don't have a grill, I moved my grate up to the top notch, and placed a foil sheet below. Then I placed my caps directly onto the grate and turned the oven onto broil. If you have a real oven with a flame running down the middle, be careful-I doubt it will take as long as mine did, but I don't have a flame for my broil. I put it on 10 minutes each side, and for the last few minutes the second time, I added my slice of cheese.
I wasn't really sure what a finished mushroom burger would look like, but after the 15-20 minutes I figured I'd give it a taste, and I was pleasantly surprised! It tasted divine! I couldn't believe it, but I then ate it for dinner the following three nights! I'm actually upset right now that I already planned and ate my egg whites for dinner before remembering the mushroom burgers! Oh well, maybe tomorrow night! Maybe you'll also be eating mushroom burgers for dinner!