I was originally looking for a crock pot chicken recipe. But I was craving mango and lime, so I specifically searched for that and this simple, but seemingly delicious recipe came my way.
It's what's on the menu for Thursday night. I even made a special grocery run tonight so I'll have ripe mangoes and limes, but I'm realizing I forgot the avocados!
4 boneless, skinless, thin sliced chicken breasts
2 teaspoons vegetable oil, separated
1 garlic clove, minced
1/2 medium red onion, diced
1 jalapeno, steemed, seeded, and minced
2 Roma tomatoes, diced
1 large mango, seeded and skin removed, cut into small cubes
Grated zest and juice of 1 lime
1/2 cup chopped fresh cilantro
1 avocado, seeded, peeled, and sliced
Salt and ground black pepper to taste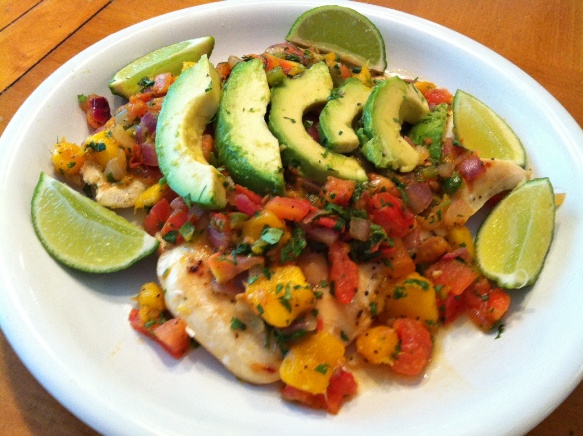 Preheat vegetable oil in a nonstick saute pan over medium high heat.
Add minced garlic to pan and allow to cook until lightly browned.
Season chicken with salt and black pepper to taste, and cook in pan about 3 minutes per side, or until it is cooked through. Transfer the chicken to a serving dish, and cover with aluminum foil to keep warm.
Meanwhile, add another teaspoon of vegetable oil to saute pan and allow to get hot on medium-high heat.
Add onion and season with salt and black pepper. Cook about 4-6 minutes until almost tender, stirring occasionally.
Then add the jalapeno, tomatoes, and mango. Cook until heated through while stirring occasionally, approximately 3-5 minutes.
Finally, add the lime zest, lime juice, and cilantro.
Remove from heat spoon salsa over chicken on serving dish. Garnish with avocado slices on top and additinal lime wedges if desired.
I cannot wait to give this a try. Hannah loves chicken, and I'm thrilled with all the new flavors!
I need some more summer chicken recipes, so send them my way.